Niagara Apothecary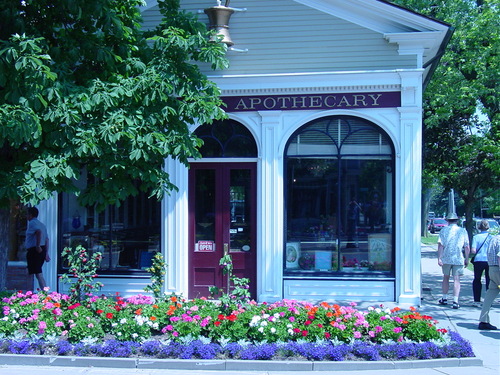 5 Queen Street
Niagara-on-the-Lake ON


The Niagara Apothecary is a wonderful tourist attraction for any family or couple visiting our historic town. Enjoy the splendor of this authentic museum restoration of a 1869 pharmacy. Take a step back in time to this unique shop that operated in Niagara-on-the-Lake, Ontario, from 1820 to 1964.

A visit to the Apothecary museum is of interest for both its numerous architectural qualities in the building itself as well as its contents. Trace the history of pharmacy in the Niagara Region back to approximately 1818 when Rodman Starkwather originally opened the Apothecary opposite Smith's Tavern. Visitors can trace the history of the Niagara Apothecary from The Starkwather Years, thru the Harvey, Paffard, Randall, Cogne and Field Years. In addition to documenting the owners of the Apothecary and their practices, the museum also looks to put their years of ownership in context by providing historical information on relevant local and world events that shaped the pharmacy. Whether as a trip to appreciate the building, its historical relevance in Niagara On The Lake or to spend time engaged in its many historical artifacts, the Niagara Apothecary is a key part of any Niagara On The Lake vacation for families, couples or singles!


Web: http://www.niagaraapothecary.ca




Return To Attractions


---

The content of our business and attraction directory appears by courtesy and
generous assistance of the lodging owners of this website. Please view our
Niagara Business and Attraction directory author credits page


Featured Lodgings

NATUROM SPA COTTAGE



Relax in private luxury with heated pool and a hot tub



BLYTHEWOOD MANOR
BED & BREAKFAST



Stay in a 140 year old Victorian home, with all the luxuries of a wonderful Bed & Breakfast!



BEN BRAE-ON-THE-PARK B&B



Ciad-Mile-Failte (A Hundred Thousand Welcomes)..Gaelic



HIEBERT'S GUEST HOUSE



Come as guests - leave as friends.



AS YOU LIKE IT B&B



We have redefined value!